The Asian Arts Initiative is a community-based arts center in Philadelphia that engages artists and everyday people to create art that explores the diverse experiences of Asian Americans, addresses our social context, and imagines and effects positive community change. We are working toward a just and joyous world where all people, regardless of their racial and class backgrounds, are able to view and create art that reflects their lives and concerns.
Created in response to community concerns about racial tension, the Asian Arts Initiative began programming in May 1993 with Philadelphia's first-ever Asian American Arts Festival: "Live Traditions/Contemporary Issues" at the Painted Bride Art Center. The Asian Arts Initiative has since become a community arts center that offers performances, exhibitions, workshops, and training for artists, youth and adults who share our commitment to community-based arts.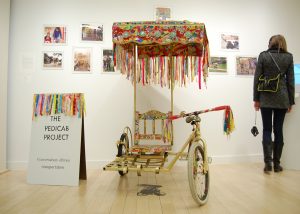 Volunteer and internship opportunities include:
Administrative work
Program assistance
Marketing & PR
Fundraising
And more, depending on the volunteer/interns skills and interest! If you have expertise with something and would like to volunteer your time and talents, we want to hear from you. Please take a moment to fill out our Volunteer Interest Form. 
Website: http://www.asianartsinitiative.org/
Phone: (215) 557-0455
Email: info@asianartsinitiative.org
Location: 1219 Vine Street Philadelphia, PA 19107
*This site is accessible via public transportation from the Bryn Mawr campus.
Please see transportation reimbursement policy.