FringeArts amplifies the vibrancy of Philadelphia as a renowned cultural destination and an unparalleled place to live, work, and visit. FringeArts experiences are entertaining, intellectually challenging, provocative, and moving.
For 18 days every September, the annual Festival creates a cityscape filled with theater, dance, music, visual art, and everything in-between – an explosion of wild creativity and daring performances. From local pioneers to international legends, it's your once-a-year chance to see the newest and most thrilling theater, dance, and music performances.
FringeArts internships offer empirical training for students and emerging professionals whose career interests include performing and visual arts administration, arts production, and all facets of nonprofit administration and management.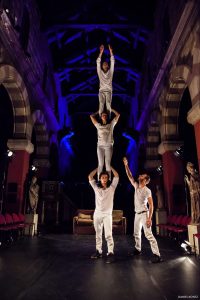 Volunteer opportunities include:
Ushering
Selling Tickets
Fire Watch
Special Events
Click here for more information about volunteering: fringearts.com/about/volunteer/ and for more about internships: fringearts.com/about/employmentinternships/
Website: http://www.fringearts.com/
Email: volunteer@FringeArts.com
Phone: 215-413-9006
Location: 140 N. Columbus Blvd. (at Race St.)
Philadelphia, PA 19106
*This site is accessible via public transportation from the Bryn Mawr campus.
Please see transportation reimbursement policy.