The Fleisher Art Memorial is guided by the spirit of its founder, who first extended an invitation in 1898 for "the world to come and learn art." Samuel Fleisher's singular vision of high-quality, tuition-free art instruction continues uninterrupted at the Memorial. Here, children from all economic and cultural backgrounds share in the commonality of the creative experience and the cultural diversity of the city. Adult artists of all levels of experience study with a distinguished faculty of working artists in diverse fine-arts mediums such as painting, drawing, sculpture, printmaking, photography, and ceramics.
Volunteer opportunities include: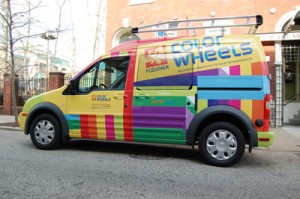 Library assistant
On evenings and Saturdays, Fleisher will be opening the library, inviting in adult students and children and their families who are here attending classes. We would look to a volunteer to promote book donations, help visitors find the resources or entertainment they are looking for, and to create a welcoming atmosphere.
Exhibition and gallery work
There are many important ways to help out with exhibitions. Assist with the installation of shows and help monitor refreshment tables during special events.
Special Events
There are many events held throughout the year for which we need additional support, including Dear Fleisher: 4 x 6 Inches of Art, the annual Print Love-In, ARTspiration, and others.
Fundraising
Mini-fundraisers help keep our classrooms filled with the equipment they need, teachers paid the salaries they deserve, and supplies available to free classes. Help is needed on Tuesday and Thursday evenings for the coffee and cookie sale in the lobby, our annual Election Day bake and book sales, the annual Student Dinner, plus other Development events throughout the year.
Office and administrative help
Ceramics Studio Monitor
Can you count clay among your closest friends? We're looking for extra hands to help our Studio Technician keep up with the demands of the semester by assisting with studio maintenance, firings, and other tasks.
Print Studio Monitor
During weekday afternoons, we open our etching and lithography studios to approved printmakers. We need assistance overseeing the studios, checking materials, and monitoring the Suzanne Fleisher & Ralph Joel Roberts Gallery.
Gallery Monitor
On Saturdays, during the Children's Program, we get many visitors to the gallery. We also see our exhibitions as a tool to enhance the art education provided in the classrooms. If you love learning about art and would like to share what you know with children and adults, this would be a wonderful volunteer position for you.
Volunteer projects are always available. Find out more at https://fleisher.org/support/volunteer/
For inquiries about internships or volunteer opportunities please contact info@fleisher.org.