Overlooking one of the nation's most culturally vibrant cities, the Philadelphia Museum of Art welcomes nearly a million visitors each year, encouraging them to embark upon a walk through time that extends across two millennia and six continents. As one of the largest museums in the United States, the Philadelphia Museum of Art invites visitors from around the world to explore its renowned collections, acclaimed special exhibitions, and enriching programs, both in person and online.
The Museum has a strong tradition of support from volunteers of all ages. Currently, there are approximately 500 volunteers from all over the community working in nearly every department at the Museum, providing services to visitors and assisting the professional staff behind the scenes. It is an ideal way to make new friends while getting to know the inner workings of one of the nation's premier cultural institutions.
Volunteer opportunities include:
Museum Guide Program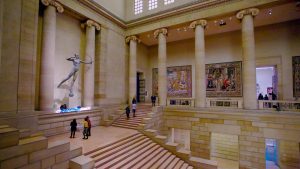 Serve as a vital source of information on the Museum's rich collections.
Park and House Guide Program
Increase awareness of the historical treasures of the Park Houses while educating guests about early Pennsylvania history.
Departmental Volunteer Program
Assist administrative and curatorial departments with assignments that range from research and cataloging to clerical work.
Website: http://www.philamuseum.org/
For more information about volunteering, click here
To learn about the Museum Studies Internship Program, click here
Phone: 215-684-7920
Address: 2600 Benjamin Franklin Parkway, Philadelphia, PA 19130
*This site is accessible via public transportation from the   Bryn Mawr campus.
Please see transportation reimbursement policy.