The mission of The Village of Arts and Humanities is to support the voices and aspirations of the community through providing opportunities for self-expression rooted in art and culture. The Village inspires people to be agents of positive change through programs that encompass arts and culture, engage youth, revitalize community, preserve heritage and respect the environment.
From the Village of Arts and Humanities website: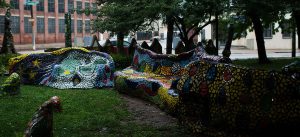 "As an organization and as individuals:
We value integrity, honesty, openness, personal excellence, constructive self-criticism, continual self-improvement and unwavering mutual respect.
We regard all the North Philadelphia community as our neighbors, partners, friends and colleagues.
We are committed to improving the physical, emotional, and social well-being of the people and the community as a whole.
We value art as a vehicle to create place, build self-esteem, and engender mutual respect. Art encompasses both the visual and performing arts as well as creativity in thinking, methodology and implementation.
We are committed to preserving the social and cultural heritage of the African American community in which we reside, while simultaneously fostering a sense of multiculturalism that reflects the needs of today's culturally diverse community.
We embrace what society disdains and throws away, creating a new sense of possibility and hope in the community.
We believe that the strongest leadership is found within the community. Therefore, our programming supports and grows youth and adult residents into community leaders."
Volunteering
Volunteers are integral to The Village's programs. The Village of Arts and Humanities would love to hear from creative and reliable individuals who would like to serve as mentors to our teens, host workshops, visit as guest speakers or help staff events at The Village. To find out how you can get involved, visit http://barefootartists.org/projects/village/.
Website: http://barefootartists.org/projects/village/
Phone: 215-225-7830
Location: 2544 Germantown Avenue, Philadelphia, PA 19133
*This site is accessible via public transportation from the Bryn Mawr campus.
Please see transportation reimbursement policy.